E HAVE PLANNED a counterpart column to be carried by some newspapers serving Filipino communities abroad, to be titled "Balik-Ugat." There is, after all, an acknowledged need for our brothers and sisters who have stayed away from our homeland for some time, especially for their children who have been born abroad and are growing up without having been in 'Pinas' to trace and cherish their roots.
If the Black Americans find inspiration in Alex Haley's Pulitzer-winning true-story titled Roots, which traces his ancestry and history to a small village in Africa, so might Filipinos all over the world find some sort of invigoration of the psyche by finding and cherishing our roots.
In fact, this is a real need for all our "kababayans" out there in various countries and continents for a good amount of "balik-ugat" injections for the hearts and minds.
Ironically, we Filipinos who are right here in our home country need this even more, without even recognizing, much less acknowledging, it.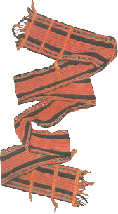 There is an urgent need for all of us to go back to our roots, a "balik-ugat" process, and a vibrant enhancement of our sense of history. Urgent because the process becomes increasingly difficult as the problems of alienation and fragmentation worsen, as the present batch of children grows up ignorant, even contemptuous, of their national identity. This is unfair to our Inang Bayan because there is actually so much beauty and greatness to be loved, if only these are known enough by her children and cultivated for more greatness for the present and future.
The forthcoming centennial year of the Philippine Revolution of 1896 (which will run from August 1995 to August 1996) may be a good occasion for enhancing our sense of history, for finding our common roots. However, precisely because of lack of historical knowledge, many of our people, especially in the provinces of Northern Luzon, the Visayas and Mindanao, tend to dismiss the Katipunan-spearheaded revolution as a struggle that involved only a narrow section of the archipelago.
Because Bonifacio and the Katipunan decided to use the word "Tagalog" to refer to the people of the entire archipelago, and because the Aguinaldo government highlighted as sun-rays in the national flag only the first eight provinces that rose in revolution against Spanish rule, that mistaken perception has been difficult to set aright.
Unlike the rest of the 50 states of the United States, who celebrated in most memorable ways the bicentennial of the American Revolution that involved only 13 of those states, many of our non-Tagalog brothers and sisters do not feel like celebrating Sentenaryo '96 during the centennial year.
The national conference convened in Ilocos Norte in November 1992 by the Asosasyon ng mga Dalubhasa at May-Hilig sa Kasaysayan ng Pilipinas (ADHIKA) and the University of the Philippines Department of History established beyond reasonable doubt the nationwide character and scope of the Philippine Revolution. The proceedings of that conference have been published in book form by U.P.
On the matter of using the word "Tagalog" as reference, preferring it over the name "Filipino" which had referred to Spaniards born in the islands (insulares) and to the name "indio," which was derogatory, the Katipunan clarified the official meaning attached by the KKK to this word through a footnote on the cover page of the Katipunan's Kartilya (actually titled "For Those Who Wish to Join this Society"): "The word Tagalog here refers to all who were born in this archipelago; therefore, be one an Ilocano, a Visayan or a Pampango, etc., he (or she) is a Tagalog just the same."
The centrifugal forces acting on our nation have been strong and growing stronger. Due to our almost-instinctive tendency to fragment rather than to unify, many of our brother and sister Filipinos may even dismiss such clarifications lightly, and simply choose to continue not recognizing the 1896 Philippine Revolution as a common heroic heritage of all the people of this archipelago. Actually, all of us Filipinos have more in common that we realize. And this is because we know almost nothing about our common roots.