BONIFACIO SYMBOLIC FUNERAL: HUMBLE, HISTORIC HAPPENING

By Ed Aurelio C. Reyes

Kamalaysayan Writers and Speakers

(May 10, 1997)
---

(This page has a CYBER TALK-BACK instant feedback box at the bottom.)
---


T COULD ONLY BE described with three words starting in H. The Symbolic Funeral of Andres Bonifacio on the centennial of his death was a "humble but historic happening." That it happened at all was a surprise feat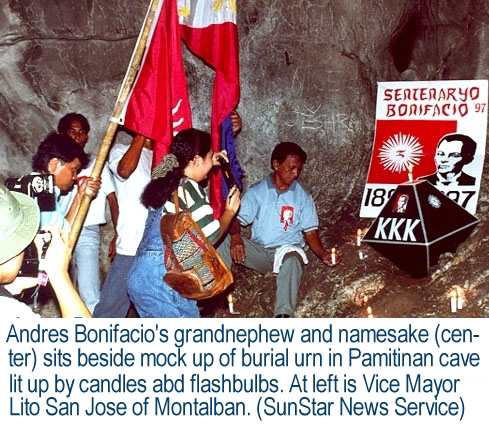 KAMALAYSAYAN almost thought it couldn't pull off, even with the full support of Montalban Vice Mayor Lito San Jose.
There were suggestions, coming even from within the KAMALAYSAYAN organization itself, to postpone the whole thing to November 30, with the proponents even at least half-aware of the ironic oddity of commemorating the death centennial of the hero on his BIRTHDAY within the death centennial year.
That it had to happen at all was something that took much explaining to sink into the conscious comprehension of even the staunchest of Bonifacio fans, especially because we had to do it, anyway, without any remains to be interred.
But happen it surely did. Attended by no less than a couple of hundred people, mostly teachers, youth, artists and professionals.
A few hours before noontime, while hundreds of ceremony participants were still traveling from various areas, including the overnight vigil site at Tutuban Center in Divisoria, Manila where Bonifacio was born, two associated of Kamalaysayan, Atty. Pablo S. Trillana III and Marius Diaz, set up and lighted a hundred candles inside the cave.
Upon arrival of the busloads of participants, a full hour program started at high-noon and this consisted of fitting testimonials in various forms from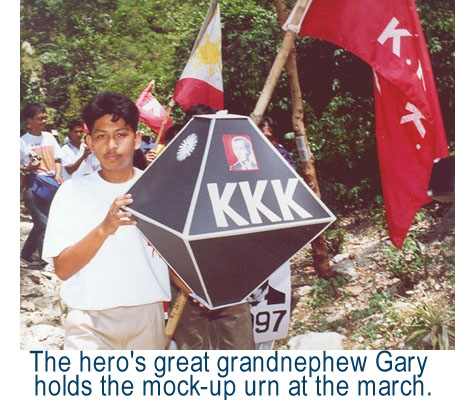 a variety of represented voices. After this and a short procession across the creek and into the cave, Andres Bonifacio y de Castro, founder and father of the Katipunan and of Filipino nationhood, was symbolically laid to rest in the Pamitinan Cave in Montalban, Rizal, an established pilgrimage destination as an acknowledged "Temple of the Katipunan Spirit." It was 1:20 p.m. of Saturday, May 10, 1997.
Andres Bonifacio's blood and spiritual descendants led by his namesake who was the national hero's grand-nephew and Gary, a more visible son of the latter, Montalban Vice Mayor Lito San Jose, and this writer representing KAMALAYSAYAN, the citizen-based campaign network for sense of history that had been campaigning in the last four years for such a ceremony, set in a predetermined place of honor inside the legendary cave the replica of the geometric urn that contained the remains of Bonifacio when these were crushed and mixed with the rubble of the bombed and pulverized building that was the national museum.
Bereft of any of the trimmings that could only be had were this affair given any substantial attention by the National Centennial Commission or at least its Bonifacio Centennial Committee, the affair was indeed a very humble one. How else can one describe an event where logistics for the attendance, transportation, comfort and feeding of most of the participants had to be funded the way the 1896 Revolution and 1986 EDSA People Power Uprising were funded -- that is, by the very participants themselves "kanya-kanyang baon" or "kanya-kanyang bayad" style.
And that it finally was consummated. Andres Bonifacio has finally been accorded a funeral ceremony deserved to be had by any human person who passes away, and this could not be anything less than a historical one. This writer and KAMALAYSAYAN can only be honored yet humbled in the role we had to play in mounting the event. And we salute and thank everyone who helped us make it possible.
(Kamalaysayan Media Service)
---
Please join our 'Sanib-Sinag'

(synergy of minds), through this

'CYBER TALK-BACK'

in selected SanibLakas webpages:

Webmaster will send your response ASAP

to your and the author's) e-mail addresses;

SANIBLAKAS CYBERSERVICES is

a service project of SanibLakas Foundation.
..
What are your comments and questions?

Your Name & Nickname:

Position / Designation:
Organization, Office,

School or Barangay:

Complete Postal & / or E-mail Addresses,

Fax & other numbers:

Personal & / or work

background relevant to

the comment or inquiry:

S E N D -->
BACK to TOP
---


back to the website opening window back to the columns opening window