PREPARING

FOR JACINTO's

120th BIRTHDAY

By Ed Aurelio C. Reyes

Kamalaysayan Writers and Speakers

(October 1995)
---

(This page has a CYBER TALK-BACK instant feedback box at the bottom.)
---


MILIO JACINTO, the youthful adviser and aide of Andres Bonifacio has been one of our most underplayed heroes. Beyond his being labeled as "Brains of the Katipunan," which sounds like a slur on Bonifacio's supposed lack of intellectual capability, nothing much has been done to honor fully his place in the Katipunan leadership and in our nation's history.
Shortly before Yearend 1992, Kamalaysayan awarded certificates of recognition and appreciation to entities and individuals who had actively participated in the commemoration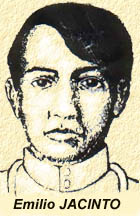 of "Katipunan, Sandaan!", the centennial of the founding of the Katipunan. We chose December 15 as the date for the awarding ceremony, that being the birth anniversary of one of the leading lights of that great revolutionary organization, none other than Jacinto himself.
We asked the National Historical Institute (NHI), our co-signatory on the certificates, where the Jacinto monuments or shrines were in the national capital region, and we were told that there was one in a school in Tondo named after him. But we could not choose that as the site of the ceremonies because it was not easy for our awardees and guests to locate. There are none in places people are generally familiar with and easily accessible to. Neither are there any major streets in Metro Manila named after him. No, the esquinitas here and there that bear his name (we know of three) can not be considered major streets.
While Jacinto has been identified as author of the Kartilya ng Katipunan and editor of Kalayaan, there has been no earnest effort on the part of the national leadership and the educational system all these decades to fully use the contents of those writings to inspire our people, especially the youth.
It is for this reason that the Kamalaysayan campaign network, after "discovering" the inspiring lessons of the Kartilya, has been straining all efforts in seeking to use all possible occasions, venues and forms to propagate these lessons and promote their personal adoption as living guides by as big a number of Filipinos as we can possibly reach and convince.
This Kartilya Propagation Program has grown into a veritable "movement" of its own since we launched it in July 1992. People who receive our handouts in Filipino, and since recently, in English, Cebuano and Ilocano (translation into Ilonggo is still ongoing), have been sharing its contents to many others, taking the initiative to photocopy our material, post this in bulletin boards, carry slightly-edited versions of it in their publications (Health Alert of HAIN, NASSA News of CBCP's social action arm and Teresa Tunay's Blue Collar magazine). Some organizations have had the material printed in reams (like the National Federation of Women's Clubs, Philippine Normal University History Department, the makers of PIDRO T-shirts, the Moral Recovery Program, and the National Library, among others).
Along with propagating the text of the Kartilya, Kamalaysayan has been conducting ceremonies where participants solemnly pledge to live by its lessons. We have also started popularizing a new song, Liwanag, Huwag Dilim, inspired by Jacinto's philosophical essay with a similar title.
Emilio Jacinto deserves more. But this is all we were able to do for the time being.
(Kamalaysayan Media Service)
---
Please join our 'Sanib-Sinag'

(synergy of minds), through this

'CYBER TALK-BACK'

in selected SanibLakas webpages:

Webmaster will send your response ASAP

to your and the author's) e-mail addresses;

SANIBLAKAS CYBERSERVICES is

a service project of SanibLakas Foundation.
..
What are your comments and questions?

Your Name & Nickname:

Position / Designation:
Organization, Office,

School or Barangay:

Complete Postal & / or E-mail Addresses,

Fax & other numbers:

Personal & / or work

background relevant to

the comment or inquiry:

S E N D -->
BACK to TOP
---


back to the website opening window back to the columns opening window